Bright Flight is the foremost Paragliding School in the Alpine area of Bright, Victoria.




Bright Flight (CFI Wally Arcidiacono) is at the forefront of Australian Paragliding and is regarded in the community as one the best schools in the country. With an exceptional safety record, as well as many staff who have formal qualifications in Education, Training and Coaching, we provide the best customer service and the most comprehensive paragliding training in Australia. 


Bright Flight is also a strong community building force within the sport. Our staff are prominent and active members of the Paragliding community. Between us, we: Are active in local flying clubs and club committees. Members of the Australian Racing squad and competitions Committee Team members of the Australian Team competing in the recent world Championships in Chamour-Sur-Gelon, France (2023) Committee members of SAFA (Sports Aviation Federation of Australia) Safety and training committee At the cutting edge of cross country flying (see XContest) in Australia, as well as leaders in the Hike and Fly and Vol Bivouac (French term for Fly/Camp) flying and expeditions both within Australia and internationally. 



In short, we run a very professional and comprehensive school and our staff are movers and shakers with the Australian and international Paragliding community!
Flight Instruction
Want to fly solo and get your licence, upgrade, get endorsements or do a Cross Country Clinic with the best school in the business?
Paragliding Gift Vouchers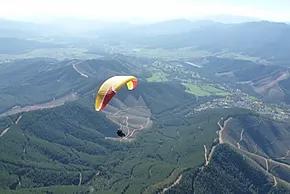 Experience the beauty of flight in a 10 minute long flight.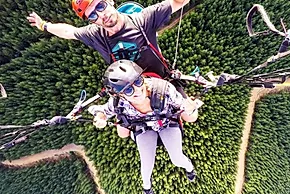 Enjoy views of bright and the surrounding mountains in this 25-30 minute flight.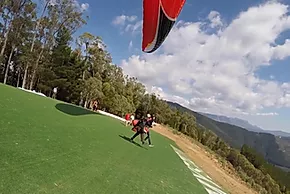 Enjoy a flight to Ringer Reef winery followed by a glass of wine and platter of tasty goodies.
Get all your Paragliding needs and wants here!